1832 South Ivanhoe - Lynwood
True mid-mod
A radiant mid-mod gem flourishes with endless character and timeless charm in the beautiful Lynwood neighborhood. The unique spirit of this home is immediately apparent with its rare A-frame structure surrounded by lush, native landscaping.
NOTABLE DETAILS
Unique Mid-Mod A-Frame
Timeless Charm + Compelling Details
Original Oak Hardwood Floors
Open Floorplan w/ Stunning Light
Captivating Floor-to-Ceiling Windows
Vaulted Ceilings + Exposed Beams
Wood-Burning Fireplace
Modern Kitchen w/ Earthy Finishes
Stylish Primary Suite w/ Vintage Style
Indoor-Outdoor Connectivity w/ Private Courtyard
Newer Roof + Systems
EXPANDED LIVING SPACE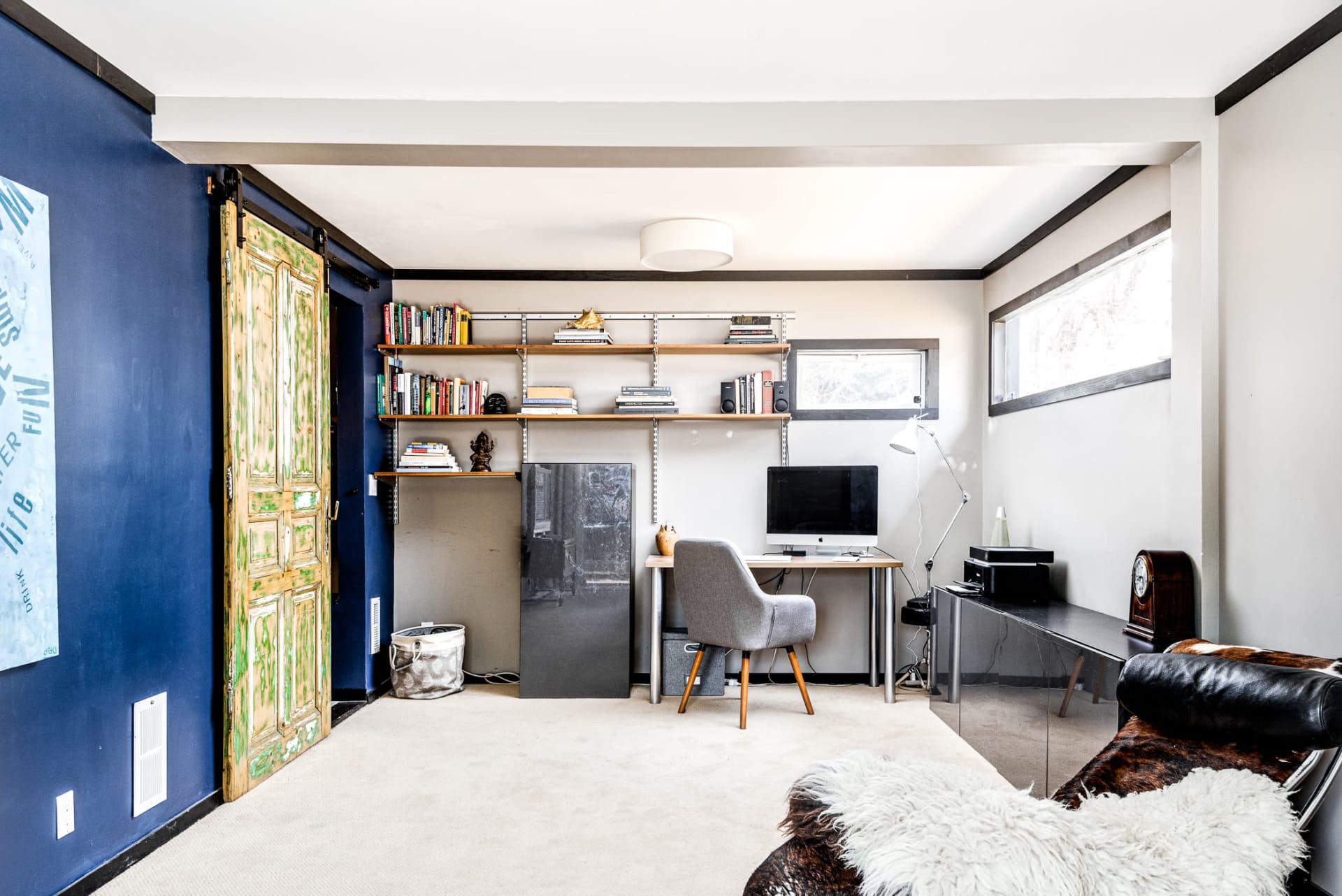 A thoughtful expansion to this elegant home crafted an additional living space beaming with natural light. This extra square footage is completely flexible to residents' needs, especially those seeking a serene office area for at-home work or a luminous area to host guests. Sliding glass doors grant access to a fenced-in patio space so that residents can feel seamlessly connected to the outdoors.
Thoughtful Expansion
Secondary Living/Flex Space
Bright Windows + Sliding Glass Doors
Outdoor Connectivity
An open floorplan connects a living, dining and kitchen area w/ seamless brilliance. Hardwood floors run underfoot while details such as trim and casing add character.
VIBRANT OPEN FLOORPLAN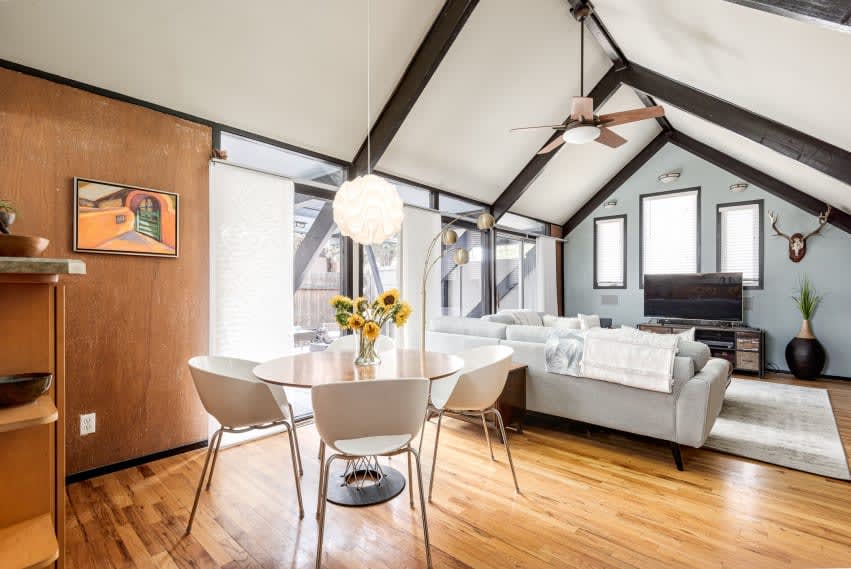 The original floorplan of this home flaunts an open and breezy atmosphere grounded by oak hardwood floors. Encompassing the living and dining area, this stretch of space is perfectly situated beneath vaulted ceilings and exposed beams — an incredible showcase of mid-mod A-frame architecture. A wall of glass includes a sliding glass door to the private courtyard area for an otherworldly connection to the outdoors. The warmth of this space is amplified by a brick wall and a wood-burning fireplace, making this area the heartbeat of an incredible home.
CONNECTED KITCHEN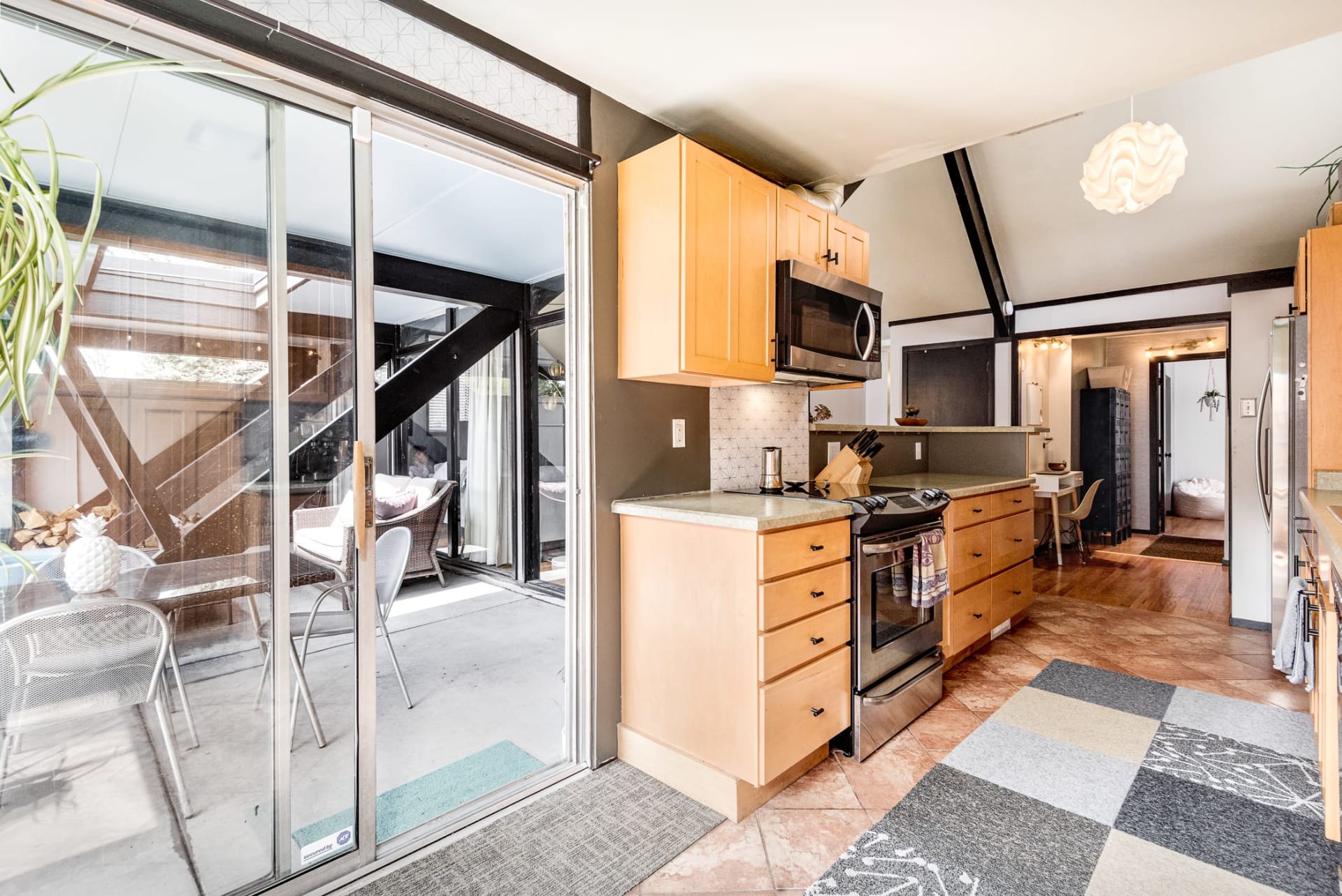 Tucked away, yet still connected to the dining area, is a radiant kitchen warmed by earthy textures such as wood cabinets and neutral tile. Stainless steel appliances commingle with a stunning geometric-patterned backsplash that extends to the far wall of this space. Yet another set of sliding glass doors beckons residents to host al fresco dinners beneath a covered patio space.
Generous Wooden Cabinetry
Ample Counter Space
Stainless Steel Appliances
Connectivity to Dining Area + Outdoor Patio
Stylish Geometric Walls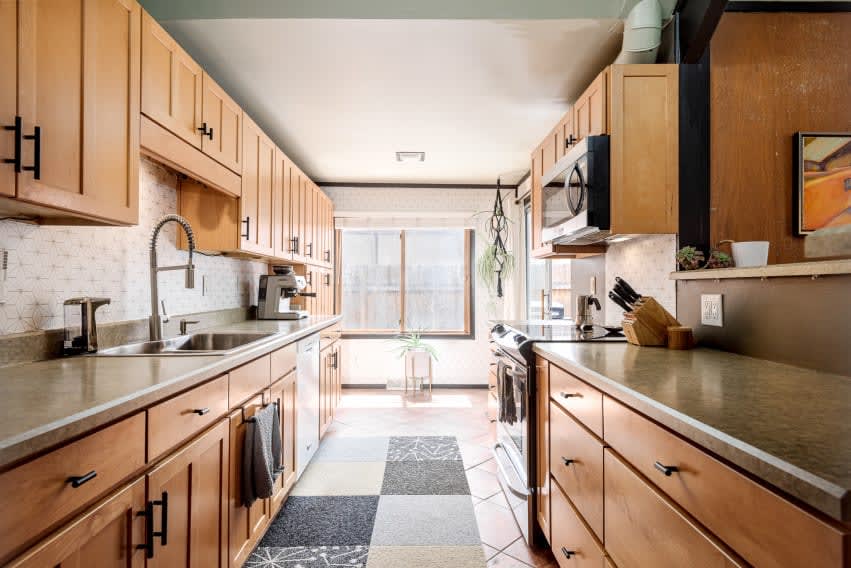 PRIMARY ESCAPE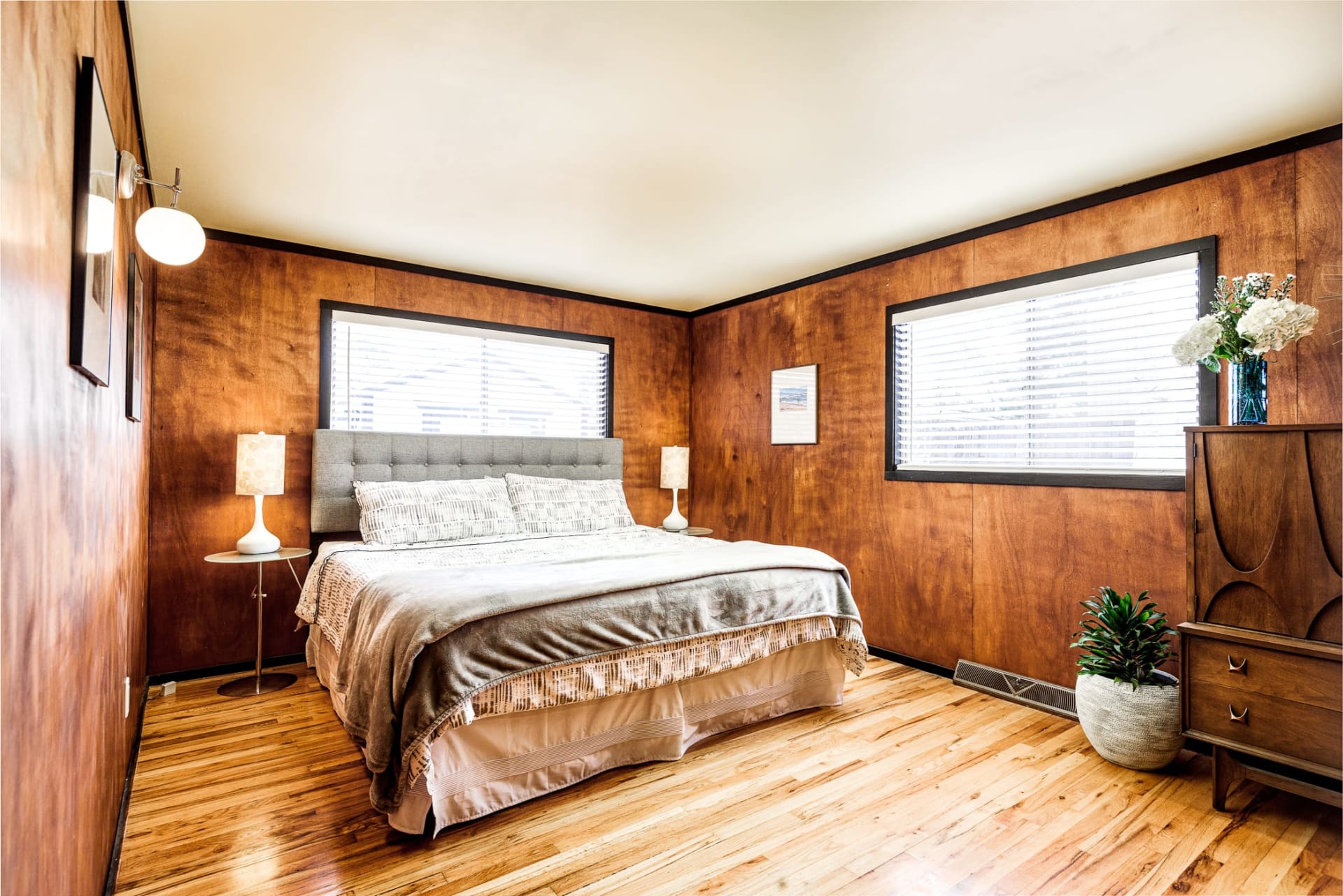 A true testament to the mid-mod allure of this home, the primary suite is a study in meticulously maintained vintage charm. Wood-paneled walls intersect wide expanses of windows, crafting an all-encompassing feeling of timeless radiance. The en-suite bathroom showcases both classic flair and modern updates, including a walk-in shower lined with cocoa tile.
Charmingly Vintage Mid-Mod Primary Suite
Endless Natural Light
Wood-Paneled Walls
En-Suite Bathroom w/ Timeless Charm + Thoughtful Updates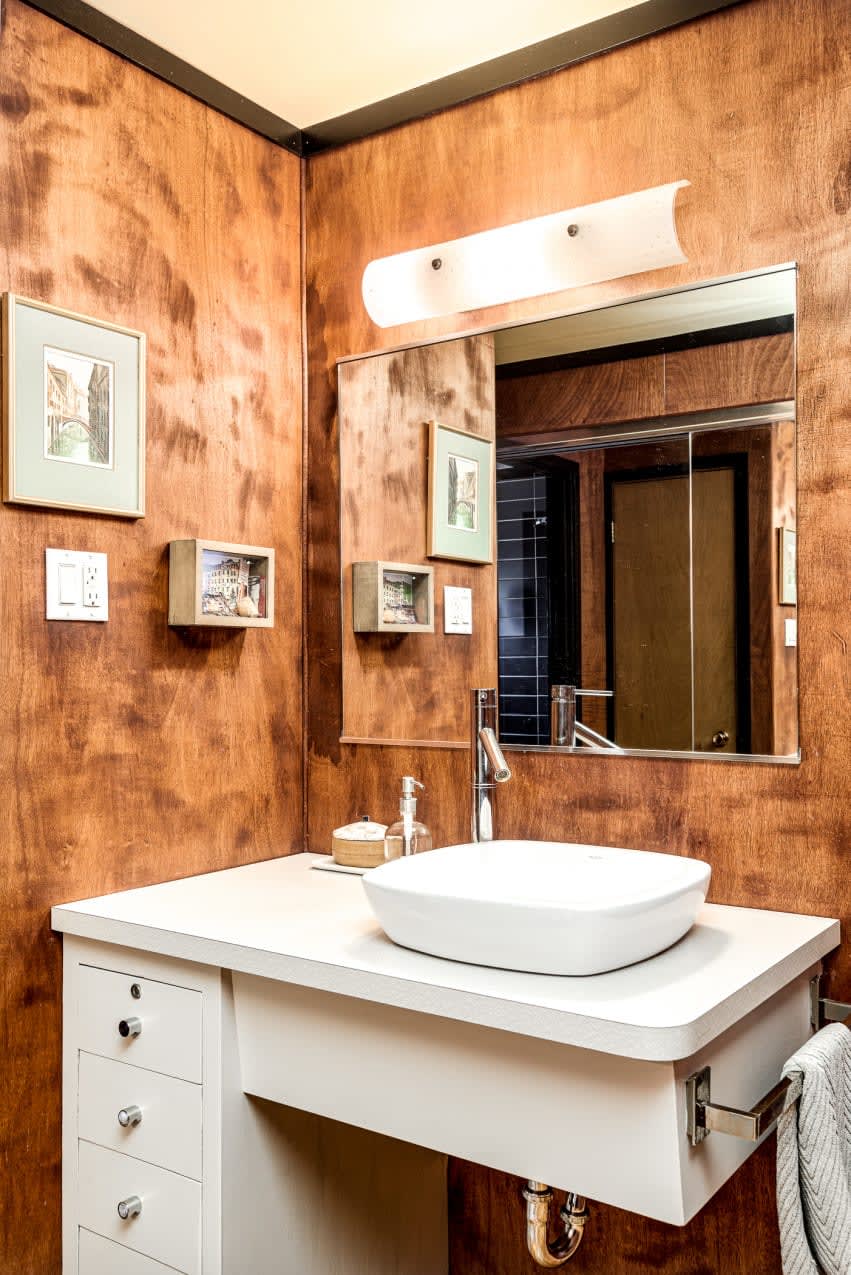 ALLURING OUTDOOR HAVEN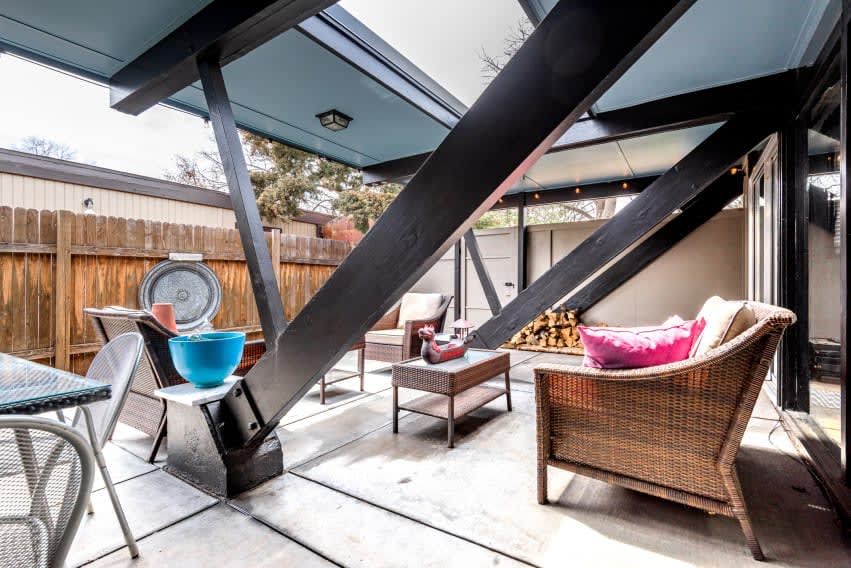 This home's irresistibility extends outward onto an enrapturing private backyard space. The indoor-outdoor livability is evidenced in this home's multiple access points through both living spaces and the kitchen. The paved courtyard is covered for all-seasons enjoyment while a skylight imbues the space with additional illumination. A storage shed, private fencing and mature landscaping amplify the allure of this outdoor haven.
Maximized indoor-Outdoor Connectivity
Covered Courtyard Space w/ Skylight
Gravel Side Yard w/ Planters
Private Fencing + Mature Landscaping